GENRE
: Comedy/Drama > Romance
I have seen the movie
Chocolat
a couple of times. One taste is not enough. This week I decided to pick up the novel of the same name and give it a try.
The New York Times
called the novel "[a]n amazement of riches." Yep. That about sums it up.
I didn't realized that
Chocolat
(1999) is part of a
series
. There are two other books:
The Girl With No Shadow
published in 2007 and
Peaches for Father Francis
published in 2012 (US titles).
<sigh> My TBR list keeps getting longer and longer.
Have you read the series or seen the movie adaptation?
$6.99 Chocolat on DVD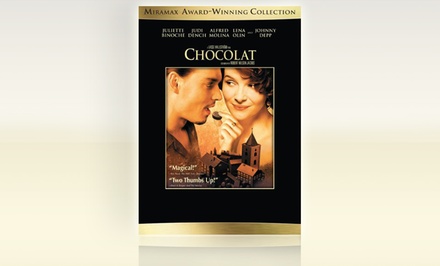 Chocolat on DVD. Free Returns.
In a Groupon Nutshell
: "Romantic film about a chocolatier finding acceptance in an old-fashioned neighborhood in France; starring Juliette Binoche and Johnny Depp"
Lighthearted, romantic film set in France
Starring Juliette Binoche, Johnny Depp, Judi Dench, and Alfred Molina
Nominated for five Academy Awards including Best Picture
Also nominated for eight BAFTAs, and four Golden Globes
Rated PG-13
Sweet Taste of Success
Beverley Byrne interviews Joanne Harris shortly after the release of the film Chocolat